Porridges and Cookies from Holland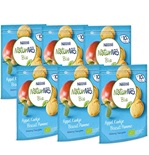 Dutch porridge and Dutch cookies
Young children love cookies based on their favorite television characters and a delicious bowl of porridge right before bed. Dutch Expat Shop has a wide selection of Dutch porridge and Dutch cookies for toddlers and young children from Holland. Simply start online shopping and we will take care of the rest. We deliver from Holland to anywhere in the world!

Our assortment Dutch cookies and Dutch porridge
Thanks to our extensive range, you will always give your little one a responsible Dutch porridge or Dutch cookies. It provides your baby or child with the nutrients needed for healthy growth and development. Especially for you, we have selected the very best brands and included them in our assortment. We would like to list a few of these well-known brands for you:
Nestle
Verkade
Ella's Kitchen
Liga
HiPP
Hero
Bambix
Servero
Organix
LU
Bolletje
As you can see, all these are A-brands that put your child's health first. For example, the mission of the brand Ella's Kitchen is to develop healthy eating habits that children enjoy throughout their lives. Therefore Ella baby food is a good choice. The brand HiPP produces baby food of the highest organic quality. Whether you're looking for a healthy snack like the Organix carrot nibbles or a Nestle pyjama juice, you'll find it all at Dutch Expat Shop.
Our service
Would you like to buy Dutch porridge or Dutch cookies from at Dutch Expat Shop? We have a fast delivery time, so you will always receive the products you have ordered quickly. In addition, your purchases are fully insured up to €500 and you will receive a 100% delivery guarantee. We ship the different brands of Dutch cookies and Dutch porridge worldwide.
Order Dutch porridge and Dutch cookies online
Do you still have questions about the Dutch cookies and Dutch porridge, or would you like to know more about a certain product or brand? Feel free to contact us, our customer service staff will be happy to assist you. We will answer your questions within 24 hours.