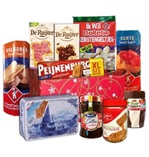 Typical Dutch food, shipped across the globe
Dutch Expat Shop delivers typical Dutch food to people from the Netherlands and Belgium, living abroad. We have a wide range of food products that we deliver across the world, in a quick and safe way to your doorstep. So, choose from one of our 25,000 products and relive the feeling of eating in the Netherlands. The thousands of typical food products from Holland that the Dutch Expat Shop offers are selected and prepared with the utmost care. Shipped anywhere in the world for you to enjoy and at the lowest shipping rates. Satisfied with your order? Don't hesitate to visit our online shop again for your typical Dutch food, we extend our range of products every month.

Famous food from the Netherlands, from your Holland supermarket
Dutch food is famous in its own way. In the Netherlands you can enjoy a wide range of traditional food and beverages. Snert and hutspot, anything you can find in a Holland supermarket will definitely make you think of Holland. Cheese from Gouda is known all around the world. Dutch beers can be found in the most remote places. Luckily, all this famous and typical Dutch food is available in our Holland supermarket. A variety of 25,000 high-quality Dutch products can be exported easily, safely and at the lowest shipping rates. Your Dutch Expat Shop supermarket from the Netherlands makes sure you get what you want, when you feel like having a Dutch meal.
Shopping online in The Netherlands
Nothing is better than the flavor of your favorite Dutch food. When you order this product in the Dutch shop, it feels like taking a trip down memory lane. And let's be honest, everyone deserves a taste from home now and then. Order your products from The Netherlands online, and we will ship it worldwide, at the lowest price. Once arrived, you can share the Dutch goodness with your family, friends or just keep it to yourself. The Dutch Expat Shop offers you famous food and a touch of Netherlands shopping at the lowest rates. In case you have any questions, please contact our Customer Service.