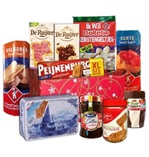 Dutch food
Did you use to love eating Dutch waffle cookies back in The Netherlands? Or are you dying to eat a sandwich with Dutch chocolate sprinkles (hagelslag) once more? It is possible! At Dutch Expat Shop, the online Dutch store, you can buy all kinds of Dutch food online and have them delivered to your place of residence abroad. Enjoy over 400 well-known brands at the lowest prices. Introduce your international colleagues to Dutch rusk with "mice" to celebrate the birth of your child. Have a look at our enormous assortment and make your choice. From Dutch waffle cookies to chocolate sprinkles, you can buy all your Dutch food directly online!

Dutch favorites
Looking for the best Dutch foods to buy? The Dutch have a few favorites. Even though The Netherlands is not known for its cuisine, you should at least try some of the tradional Dutch food items. Some Dutch food favorites available at Dutch Expat Shop are cheese, licorice, stroopwafel, peanut butter, poffertjes, frikandellen, kroketten, pancakes and hagelslag. Not sure where to find these Dutch food favorites? Type them into our search bar. This way you'll find the Dutch foods you are looking for.
Typical Dutch food
Every province in the Netherlands has its own unique regional Dutch products. In the province Limburg, for instance, you can enjoy the delicious regional vlaai (fruit tart), and in Zeeland you should definitely try a Zeeuwse Bolus (sweet pastry). The Dutch like to serve dishes in the winter like erwtensoep (pea soup) and stamppot (mashed potatoes and veg). Last but not least there are several popular Dutch foods for Dutch Holidays. They like to eat tompouce on King's Day, oliebollen for New Year's Eve, and pepernoten for Sinterklaas.
Belgian and Dutch foods
Order typical Dutch foods at our webshop. If you live abroad and are homesick for certain Dutch and Belgian products, Dutch Expat Shop is the shop you need. With our webshop we make sure that you will never feel homesick again for the typical Dutch products you used to buy in the Netherlands. We offer more than 15,000 typical Dutch products and another 10,000 typical Belgian products. You can easily and quickly order all products online. Dutch Expat Shop will then send all typical Dutch products, including Dutch food, to you abroad. It is even possible to have your package delivered within 4 working days, wherever in this world you may live. That is why Dutch Expat Shop is the Dutch store that takes away all your worries.
Order Dutch food online
Look at our range Dutch foods and make your choice, you can easily order the desired products online. Do you have any questions about Dutch food or would you like to know more about our service? Feel free to contact our customer service. They can tell you much more about our products and service, to answer all your questions. Do you have any particular wishes? Please contact our customer service. Even when you can't find your favorite Dutch food within our assortment right now we will do our utmost to make sure you're satisfied.