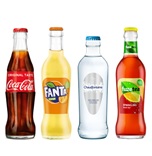 Online shop Netherlands - shop drinks online
Do you ever have a craving for that real chocomel? Or are you and other expats having a hard time finding your favorite beer? No need to worry! Dutch Expat Shop is your online shop from the Netherlands, you can shop online for a wide selection of drinks that you can order online and have delivered to you abroad. And all that at very competitive prices and the lowest shipping rates. Enjoy our excellent service and soon you'll be enjoying an authentic Dutch moment!

For any products from the Netherlands you didn't find in our online shop, please contact our customer service in the Netherlands.