Delicious Dutch and Belgian recipes of Dutch Expat Shop!
Our delicious Dutch and Belgian recipes are from now on available via our website!
From the many typically Dutch recipes from Holland to the most tastfull recipes from Belgium. Prepare your own stew on the otherside of the globe or baking delicious Belgian waffles with your own children. It is all possible! From now on you will never have doubts anymore what to cook for your family or friends. Besides that, you now have the opportunity to explore many other Dutch and Belgian delicacies and specialties. Ideal right?!
Giant syrup waffle!
Have you ever seen this giant syrup waffle before? This Dutch waffle from Gouda has a diameter of 247 centimeters and a total weight of 50 kg, which makes this waffle 800 times bigger than a normal syrup waffle. To prepare this waffle you need 60 kg of flour, 15 liters of syrup and a waffle iron of 3,000 kg. It is amazing isn't it? Please check the video here: https://www.youtube.com/watch?v=4hfOyKHZK8k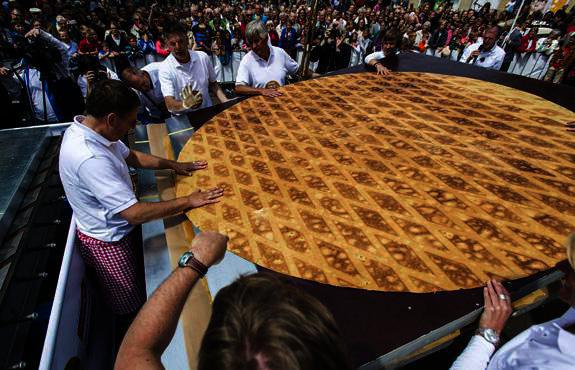 If you want to prepare your own real Dutch syrup waffle, please check below Dutch Expat Shop's secret recipe,
Syrup waffles
The recipe for this week is the typically Dutch syrup waffle. A syrup waffle, also called a Goudse waffle, is a typically Dutch dish, which has its origin from Gouda, a city in Holland. A syrup waffle consists of two pieces of dough included with a cross-hatch pattern. You can find the sweet syrup in between of the two pieces of dough. Originally, the syrup waffles have a diameter of approximately 10 cm, but nowadays you can also find syrup waffles with a diameter of 5 to 25 cm.
How can I make Dutch syrup waffles?
A syrup waffle is, in contrary to a Liège waffle, a little bit more difficult, because you need to prepare also syrup for the syrup waffle. Even the time of preparation is much longer. Approximately 100 minutes.
Materials
Plastic foil
Waffle maker
Cutter with a diameter of 10 cm
Ingredients for 6 pieces of Dutch syrup waffles
Syrup waffle dough
90 gram flour
35 gram sugar
35 gram butter
1 egg
salt
cinnamon powder
Cinnamon syrup
187 gram sugar
28 ml cooking cream
28 gram sugar syrup
cinnamon powde
84 gram butter
The prepreparation of Dutch syrup waffle dough:
To prepare the typically Dutch syrup waffle dough the flour must be mixed with 35 grams of sugar. After mixing the flour create a little hole and mix the flour again with 35 grams of butter, 1 egg, a little bit salt and some cinnamon powder. Knead the flour properly to equal dough. Pack the dough in plastic foil and leave this for approximately 30 minutes in a fridge.
Heat the waffle maker to a medium temperature. Seperate the dough into 12 equal pieces and roll these pieces into little balls. Press these little balls flat, like a mini-burger. Put the flat dough pieces in the middle of the waffle maker and wait, after closing the waffle maker, for approximately 1 minute. When the waffle is ready cut this waffle immediately in the shape which you prefer. All other waffles can be prepared similarly until the dough is empty.
The prepreparation of cinnamon syrup:
Caramelize the sugar in seperate parts in a pan and add some sugar again when the other is caramelized. Heat the cooking cream with the sugar syrup in another pan. Finish the cinnamon with the cooking cream and wait until the cinnamon is disappeared. Take the pan from the fire, add some cinnamon powder and mix the butter in lumps. Leave the cinnamon to a temperature of 50 degrees.
The preparation of syrup waffles:
Spread a cold waffle with tepid cinnamon syrup. Press another waffle to the waffle with the cinnamon syrup and wait until the syrup is divided on both waffles. Repeat this until all waffles are finished.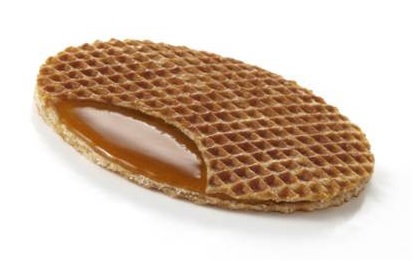 Tip: when the waffle maker is under pressure, the waffle can be larger and flatter.
Extra information:
Energy: 460 kcal
Fat: 19 gram
Protein: 3,5 gram
Carbohydrates: 67 gram
Enjoy this delicious dish!
Dutch Expat Shop
Liège waffles
The recipe for this week is the mouthwatering Liège waffle from Belgium. A Liège waffle, also called sugar waffle or Gaufre de Liège, is a Belgian dish, which has its origin from Belgium's city Liège. Liège waffles contain sugar crystals, so sugar powder is for this Belgian dish not necessarrily needed. The shape of a Liège waffle can be lozenge-shaped or oval and will be sold at market fares.
How can I make Liège waffles?
A Liège waffle is a simple dish, which you can prepare within only 30 minutes. The method of preparation is explained below:
Materials
Waffle iron
Ingredients for 6 pieces of Liège waffles
100 gram butter
40 gram sugar
1 bag vanilla sugar from Dr. Oetker
salt
1 egg
4 tablespoons of milk
250 gram self-rising flour from Koopmans
100 gram brown rock sugar
oil
The pre-preparation of 6 pieces of Liège waffles (10 minutes):
To prepare the delicious Liège waffles mix a piece of butter with sugar, vanilla sugar and salt. In the same time add one egg and 4 tablespoons of milk. Mix again and sieve the butter mixture with the baking flour. Add a bit of brown rock sugar and knead the dough properly. After kneading the dough separate the dough in 6 rolls.
The preparation of 6 pieces of Liège waffles (15 minutes):
The waffle iron must have a medium temperature and must contain a little bit of oil on the baking plate. Put the dough roll in the middle of the waffle iron and wait, after closing the waffle iron, approximately 1,5 minutes until the waffles are brown. All other waffles can be prepared similarly, but do not forget to put oil on the baking plate again. The Liège waffles can be eaten with sweet cherries, strawberries and chocolate. Of course, also other varieties are possible!

Extra information:
Energy: 380 kcal
Fat: 15 gram
Protein: 6 gram
Carbohydrates: 55 gram
Enjoy this delicious dish!
Dutch Expat Shop